Heating
Furnace Maintenance & Repair in the Inland Empire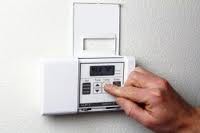 Has old faithful been acting up lately, making a funny noise or simply not working? Before you start to consider replacing your entire heating and cooling system, first consider having one of the expert technicians at ER BLOCK Heating, Air Conditioning and Refrigeration assess your system to see if it is repairable. Repairs could save you a lot of time and money!
However, if your furnace system is not repairable, we have a knowledgeable staff to help provide you with any and all information you need to make the best decision when buying your new system. We would be glad to take the time to hear your comfort needs to fit you with the best system for your needs no matter your budget.
For more information on our repair services or replacement systems call ER BLOCK Heating, Air Conditioning and Refrigeration today to talk with one of our HVAC specialists at 951-734-1881 (Corona Area) / 951-687-9944 (Riverside Area) / 909-881-9595( San Bernardino Area) or, complete our online request form on the upper left of this page.