Air Conditioning
Cooling Services in the Inland Empire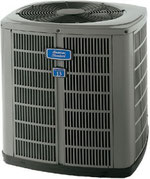 Air conditioners are designed to extract heat from an area by using a refrigeration cycle. This is achieved when a heat pump transfers warmer air to a lower temperature heat source into a warmer temperature heat sink. Heat then flows in the opposite direction, creating air conditioning. Air conditioners use a compressor to cause pressure changes within two compartments, which then pumps around a refrigerant. There are a number of different types of air conditioning systems including, exterior or interior units, evaporative coolers, absorptive chillers, and central air units. You will need to decide which system works best for your home before deciding on installing it.
When it comes to installing your air conditioning unit, no one know the ins and outs better than ER BLOCK Heating, Air Conditioning and Refrigeration. We have the know-how, reliability, and affordable pricing to get the job done. We will choose the best spot for your unit so that will be conducive to you moving freely without it being in your way. You will want to make sure that you call a professional to come out and do the job for you correctly. Nobody gets the job done right better than ER BLOCK. Once it is installed you will want to make sure that you use ER BLOCK for all of the proper maintenance of your unit as well! Air conditioning repair can be very costly if you choose to do it yourself. But with the help from ER BLOCK Heating, Air Conditioning and Refrigeration you will have the peace of mind know that the job will get done efficiently and cost effectively. Whether it is wiring issues, cooling issues, thermostat not working properly, or you pump not working properly; the technicians at ER BLOCK are the foremost experts on any problem tackling your air conditioning unit. They have the tools and skills that are essential to taking the correct steps to repair your unit back to proper working form.
For more information on our repair services or replacement systems call ER BLOCK Heating, Air Conditioning and Refrigeration today to talk with one of our HVAC specialists at 951-734-1881 (Corona Area) / 951-687-9944 (Riverside Area) / 909-881-9595( San Bernardino Area) or, complete our online request form on the upper left of this page.